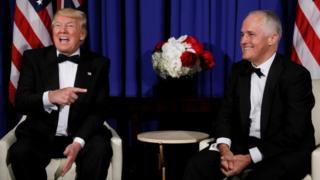 Australian Prime Minister Malcolm Turnbull has been recorded mocking US President Donald Trump in footage leaked by the media.
Mr Turnbull was filmed speaking at an event for the Australian media at Parliament House on Wednesday night.
The event is normally not reported on, but the political editor at Australia's Nine Network said he had chosen to break protocol and make it public.
Mr Trump and Mr Turnbull recently repaired ties after a troubled start.
They had an acrimonious first phone call over Mr Trump's reluctance to honour a deal to accept up to 1,200 refugees from Australian detention camps.
But last month the two leaders met in New York, after which Mr Trump described their relationship as "fantastic".
'Winning at the polls'
In the leaked footage, Mr Turnbull performs a jokey routine for guests at the Mid Winter Ball for the media.
Adopting the mannerisms of the president, he says their meeting was "beautiful. It was the most beautiful putting-me-at-ease ever".
"The Donald and I, we are winning and winning in the polls. We are winning so much, we are winning, we are winning like we have never won before," he said.
He also jokes that polls are "so easy to win" adding: "I have this Russian guy…"
Australia is one of the closest allies of the US. Troops from the two countries have fought together in all recent major conflicts including Iraq and Afghanistan.
Nine's political editor Laurie Oakes said he did not attend the ball himself, but that the audio "just happened" to leak and a sample had been posted on Instagram.
Source link