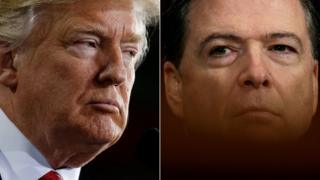 Former FBI Director James Comey will testify to Congress on Thursday that President Donald Trump told him at a dinner: "I expect loyalty."
According to his opening statement, Mr Comey will also say the president asked him to drop an inquiry into fired National Security Adviser Mike Flynn.
Mr Comey will back up the president's assertion that the FBI chief assured him Mr Trump was not under scrutiny.
He will say Mr Trump called the Russian probe "a cloud" over him.
In Thursday's eagerly anticipated hearing before the Senate Intelligence Committee, Mr Comey will detail his interactions with Mr Trump leading up to his firing on 9 May.
He will say his first meeting with the president occurred on 6 January in a conference room at Trump Tower, where Mr Comey briefed him alone on "salacious and unverified" allegations about him.
A dossier compiled by a former British intelligence official claimed the Russian security services had compromising material on Mr Trump, including that he had been recorded consorting with prostitutes at a Moscow hotel.
Mr Comey's statement said the president emphatically denied he had "been involved with hookers in Russia".
On 27 January, Mr Comey said he had a "very awkward conversation" with the president during a one-on-one dinner in the Green Room of the White House.
The president asked the FBI director whether he wanted to stay in his job, Mr Comey will testify.
The FBI director will say he found this "strange" because Mr Trump had already told him twice in earlier conversations that he hoped he would not step down.
Mr Comey will say the question "concerned me greatly" because he felt the dinner was an effort to "create some sort of patronage relationship".
Source link