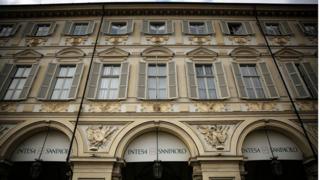 Italy's government is bailing out two banks in the Venice region at a cost of 5.2bn euros (£4.6bn; $5.8bn).
The good assets of Banca Popolare di Vicenza and Veneto Banca will be taken on by Intesa Sanpaolo.
Economy Minister Pier Carlo Padoan said Rome would also offer guarantees of up to 12bn euros for potential losses from bad and risky loans.
The government will appoint special administrators for the two ailing banks, which face bankruptcy.
They are being wound down under national insolvency procedures.
The move comes less than a month after Spain's Banco Popular was rescued by Santander.
The European Central Bank said Banco Popular was "failing or likely to fail" due to its dwindling cash reserves.
The bank has struggled after billions in property investments turned sour.
The rescue will cost Santander about 7bn euros (£6.1bn).
Source link