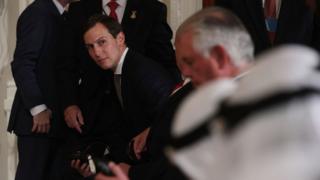 A senior Democratic lawmaker has opened an investigation after Donald Trump's son-in-law admitted to using a private email account for government business.
Elijah Cummings has asked Jared Kushner, senior presidential adviser, to preserve all his personal emails.
Mr Kushner's lawyer has confirmed that "fewer than 100 emails" were sent through a private account.
US media reports say five other aides also used private email accounts to deal with White House matters.
Mr Kushner's wife and Donald Trump's daughter Ivanka Trump is said to be among them.
Newsweek magazine says it has details of an email Ivanka sent about collaboration with a business organisation, copying in two federal officials.
The New York Times has named the four other staffers as Steve Bannon, the former chief White House strategist; Reince Priebus, the former chief of staff; and advisers Gary D Cohn and Stephen Miller.
During his campaign, Donald Trump repeatedly criticised rival Hillary Clinton for using a personal email account while secretary of state, and vowed to imprison her over her handling of classified information.
In a letter to Mr Kushner, Congressman Elijah Cummings quoted from the Republican investigation of Hillary Clinton's email server to justify asking Mr Kushner to keep his emails.
"The public has a right to access public records," he wrote, quoting Republican Trey Gowdy's letter to Mrs Clinton's legal team on 19 March 2015.
"The public has a right to certainty that no classified or sensitive information was placed at risk of compromise.
"Your actions in response to the preservation request and the information you provide in response to this letter will help determine the next steps in this investigation," the Maryland congressman wrote to Mr Kushner, a former real estate investor.
White House spokeswoman Sarah Huckabee Sanders would not commit to releasing the emails at Monday's press briefing, saying: "I'm not going to get ahead of a conversation that hasn't taken place."
She added that the use of private emails to conduct government business is "to my knowledge, very limited".
Federal regulations specify how records related to the president and other government activities should be maintained. It is not illegal for White House officials to use private email accounts, as long as they forward professional messages to their work accounts for preservation.
If this is not done reliably, the use of private accounts can put official records beyond the reach of journalists, lawmakers, and others who seek publicly available information.
Source link