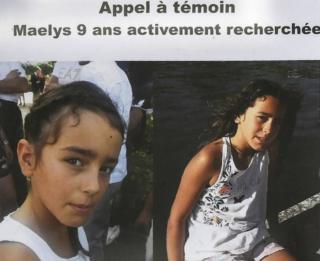 The mother of a man suspected of kidnapping a nine-year-old French girl says she will urge him to reveal whatever he knows about what happened.
Christiane Lelandais was speaking after the parents of Maëlys de Araujo had also urged the suspect, Nordahl Lelandais, to "reveal what he knows".
Maëlys disappeared a month ago during a wedding in the French Alps.
Nordahl Lelandais is in solitary confinement. Some of the girl's DNA was found on the dashboard of his car.
"Once I can go and visit my son in prison, I'll speak to him and say: 'If you saw something you must talk about it'," Christiane Lelandais was quoted as saying.
Police, search-and-rescue teams, divers and cavers have scoured the area where Maëlys disappeared – Pont-de-Beauvoisin, north of Grenoble – but have not made a breakthrough.
Nordahl Lelandais, 34, is an ex-soldier who lives with his parents a few kilometres from Pont-de-Beauvoisin.
He has been charged with kidnapping the girl, which he has denied. According to his lawyer he has admitted that Maëlys was in his car on the night she disappeared.
Christiane Lelandais, quoted by the French daily Le Parisien, voiced sympathy for Maëlys' parents. "I feel their distress. I too would like to know what happened to Maëlys."
Man charged over missing wedding girl
Le Parisien also reported that two police sniffer dogs fell seriously ill after examining the Audi car belonging to Nordahl Lelandais. He had reportedly used a strong detergent to clean it the day after Maëlys disappeared.
Le Parisien says a service station camera filmed him cleaning the car for more than two hours. He maintains that he cleaned the car thoroughly because he wanted to sell it.
He was a guest at the wedding where Maëlys disappeared, but her parents say they did not know him, nor had they had any argument with him.
Speaking to the public for the first time, Maëlys' mother Jennifer said investigating judges had made "serious and consistent allegations" about the suspect, whom she did not name.
"His behaviour since the start of the inquiry does not convince us that he is being honest, nor that he is willing to participate seriously in the investigation," she said.
But the man "could have important information that could help us find our daughter again".
Source link