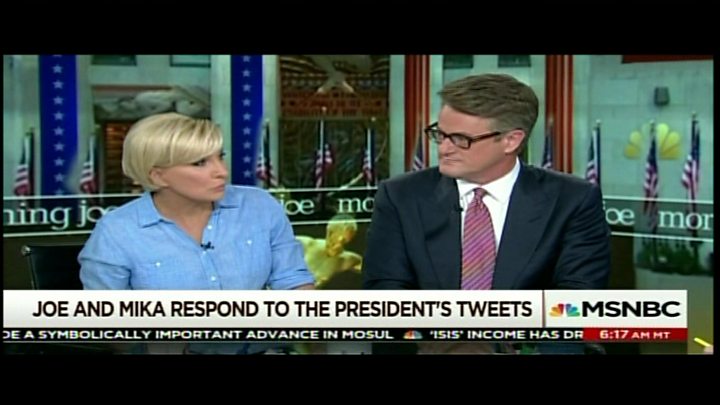 Two US TV presenters attacked on Twitter by President Donald Trump have accused him of lying and say he is mentally unfit to watch their show.
Joe Scarborough and Mika Brzezinski, who present the MSNBC show Morning Joe, wrote a joint response to the president in the Washington Post.
They deny his claim that they sought to spend time with him, and accuse him of an "unhealthy obsession" with them.
Mr Trump called them "low IQ crazy Mika" and "Psycho Joe" on Thursday.
He also referred to Ms Brzezinski as "bleeding badly from a facelift".
The pair wrote: "We are both certain that the man is not mentally equipped to continue watching our show.
"For those lucky enough to miss Thursday's West Wing temper tantrum, the president continued a year-long habit of lashing out at Morning Joe while claiming to never watch it," they continued.
Thursday's show had made disparaging comments about the president.
However, many felt that Mr Trump's attack went too far and was inappropriate for the country's leader. Senior US Republicans were among those to criticise the Twitter outburst.
In the Washington Post article, the journalists denied his claims that they had spent three nights at his Mar-a-Lago resort in Florida, or that they "insisted" on spending time with him.
Instead they present an opposing scenario, where they turned down his invitation to attend his New Year's Eve party.
They continued: "Putting aside Mr Trump's never-ending obsession with women's blood, Mika and her face were perfectly intact, as pictures from that night reveal.
"And though it is no-one's business, the president's petulant personal attack against yet another woman's looks compels us to report that Mika has never had a face-lift."
In a previous spat with journalist Megyn Kelly, Mr Trump referred to "blood coming out of her wherever", implying she was on her period and this was affecting her work.
The journalists also said that White House staffers had told them the National Enquirer would publish a negative article about them unless they begged Mr Trump to have it stopped. "We ignored their desperate pleas," they wrote.
The spat shows no sign of ending. Mr Trump again tweeted on Friday, saying it was Mr Scarborough who had called him to stop the National Enquirer piece. "I said no! Bad show," he tweeted.
Republican Senator Lindsey Graham said Mr Trump's remarks on Thursday were "beneath the office" of president.
He said the tweet "represents what is wrong with American politics, not the greatness of America".
"Please just stop. This isn't normal," tweeted fellow Republican Senator Ben Sasse.
Meanwhile, senior Democrat in the House of Representatives, Nancy Pelosi, called Mr Trump's tweets "sexist, an assault on the freedom of the press & an insult to all women".
The White House sprang to Mr Trump's defence.
"I don't think that the president has ever been someone that gets attacked and doesn't push back," spokeswoman Sarah Huckabee Sanders told Fox News.
"People on that [MSNBC] show have personally attacked him many times. This is a president who fights fire with fire and certainly will not be allowed to be bullied by liberal media and the liberal elites within the media, or Hollywood or anywhere else."
Ms Brzezinski and Mr Scarborough co-present Morning Joe, which has increasingly derided President Trump since he took office.
In recent weeks, Mr Scarborough has called him a "bumbling dope", resembling "a kid who pooped in his pants", while Ms Brzezinski has mocked members of the administration as "lobotomised".
Ms Brzezinski is the daughter of the late Zbigniew Brzezinski, who was President Jimmy Carter's national security adviser, while Mr Scarborough is a former Republican congressman. They are engaged to each other.
Source link