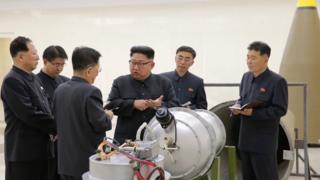 North Korea says it has successfully tested a nuclear weapon that could be loaded onto a long-range missile.
The secretive communist state said its sixth nuclear test was a "perfect success", hours after seismologists had detected an earth tremor.
Pyongyang said it had tested a hydrogen bomb – a device many times more powerful than an atomic bomb.
Analysts say the claims should be treated with caution, but its nuclear capability is clearly advancing.
North Korea last carried out a nuclear test in September 2016. It has defied UN sanctions and international pressure to develop nuclear weapons and to test missiles which could potentially reach the mainland US.
South Korean officials said the latest test took place in Kilju County, where the North's Punggye-ri nuclear test site is situated.
The "artificial quake" was 9.8 times more powerful than the tremor from the North's fifth test, the state weather agency said.
It came hours after Pyongyang said it had miniaturised a hydrogen bomb for use on a long-range missile, and North Korean leader Kim Jong-un was pictured with what state media said was a new type of hydrogen bomb. State media said the device could be loaded on to a ballistic missile.
---
How can the world respond?
Jonathan Marcus, BBC defence and diplomatic correspondent
North Korea's sixth nuclear test – probably its largest so far – sends out one clear political signal.
Despite the bluster and threats from the Trump administration in Washington and near-universal condemnation from around the world, Pyongyang is not going to halt or constrain its nuclear activities.
Worryingly, it also suggests that this is a programme that is progressing on all fronts at a faster rate than many had expected. So far all efforts to pressure North Korea – sanctions, isolation, and military threats – have all failed to move Pyongyang.
Could more be done? Certainly, but the harshest economic pressure would potentially cripple the regime and push it towards catastrophe – something China is unwilling to countenance.
Containment and deterrence will now come to the fore as the world adjusts its policy from seeking to roll-back Pyongyang's weapons programme to living with a nuclear-armed North Korea.
Can the world live with a nuclear North Korea?
---
Initial reports from the US Geological Survey put the tremor at 5.6 magnitude with a depth of 10km (six miles) but this was later upgraded to 6.3 magnitude at 0km. This would make it the North's most powerful nuclear test to date.
Japan condemned the test and South Korean President Moon Jae-in convened emergency security council talks.
Bruce Bennett, a defence analyst at public policy group the Rand Corporation, told the BBC that the size of the tremor was significant.
"If it really does prove out to be 6.3, that's a very big weapon, much bigger," he said.
"It's still not a true hydrogen bomb but it's certainly much closer to that than anything they have ever done before."
He said China would also be concerned about the size of the suspected blast.
"Those Chinese people across the border from that area, they were undoubtedly shaken terribly," he said.
'Great destructive power'
A series of recent missile tests has caused growing international unease.
In a report on Sunday, the North's state news agency KCNA said Kim Jong-un had visited scientists at the nuclear weapons institute and "guided the work for nuclear weaponisation".
"The institute recently succeeded in making a more developed nuke," the report said, adding: "He (Kim Jong-un) watched an H-bomb to be loaded into a new ICBM (intercontinental ballistic missile)."
The report carried pictures of the leader inspecting the device. It described the weapon as "a multi-functional thermonuclear nuke with great destructive power which can be detonated even at high altitudes".
International experts say the North has made advances in its nuclear weapons capabilities but it is unclear if it has successfully miniaturised a nuclear weapon it can load on to a missile.
The North has previously claimed to have miniaturised a nuclear weapon but experts have cast doubt on this. There is also scepticism about the North's claims to have developed a hydrogen bomb, which is more powerful than an atomic bomb.
Hydrogen bombs use fusion – the merging of atoms – to unleash huge amounts of energy, whereas atomic bombs use nuclear fission, or the splitting of atoms.
Previous nuclear tests
Source link