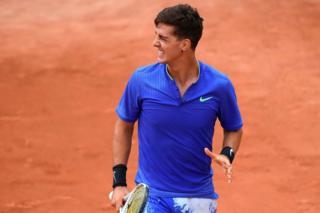 Cereal company Kellogg's has taken legal action to stop Australian tennis player Thanasi Kokkinakis from using his nickname Special K commercially.
It initiated court proceedings to defend the Special K trademark which it has owned in Australia for 59 years.
Kokkinakis, 21, wants to use the brand on clothing and other merchandise, according to The Advertiser newspaper.
A hearing in Adelaide at the Federal Court of Australia sent the case to a mediation conference in August.
A spokesperson for Kellogg's told the BBC: "The Kokkinakis Company has applied to register Special K as a trademark and we are defending our trademark."
Tennis players including Roger Federer, Rafael Nadal and Novak Djokovic have made multimillion dollar businesses from merchandise using their names.
Kokkinakis has been plagued by injuries over the past two years and last week made his grand slam return at Roland Garros using a protected ranking.
He was defeated in round one of the French Open by Japanese eighth seed Kei Nishikor 4-6 6-1 6-4 6-4.
Source link