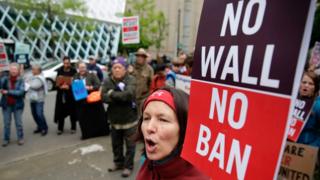 A US appeals court has upheld a decision blocking President Trump's revised "travel ban" on people from six mainly Muslim nations.
A lower court had issued the injunction on the grounds that the ban was discriminatory after a challenge by the state of Hawaii.
It is a further legal setback for the president's efforts to get the ban he promised his supporters.
Mr Trump's own tweet from 5 June was cited in the judges' ruling.
The 90-day ban was to apply to people from Iran, Libya, Syria, Somalia, Sudan and Yemen. It also called for a 120-day ban on all refugees.
The Ninth US Circuit Court of Appeals in San Francisco was reviewing a March ruling by a Hawaii-based federal judge that blocked parts of Mr Trump's order.
In their ruling, the judges said that "immigration, even for the President, is not a one-person show".
They said Mr Trump had failed to show that the entry of people from the six countries mentioned in the ban, as well as the refugees, would be detrimental to US interests.
But the judges said the government was allowed to review the vetting process for people entering the US – something the earlier Hawaii ruling had blocked.
Reacting to the ruling, White House spokesman Sean Spicer defended the executive order, saying "we need every available tool at our disposal to prevent terrorists entering the United States and committing acts of bloodshed and violence".
"We continue to be confident that the president's executive order to protect this country is fully lawful and ultimately will be upheld by the Supreme Court," Mr Spicer added.
Earlier this month the Trump administration filed an emergency request with the Supreme Court to block the Hawaii ruling, and another by a different court, and revive the ban.
Lawyers for Hawaii had described Mr Trump's executive order as a "thinly veiled Muslim ban".
The Supreme Court will decide whether Mr Trump's comments during his election campaign can be used as evidence that the executive order was intended to discriminate against Muslims, which would be against the US constitution.
During his election campaign, Mr Trump called for a "total and complete shutdown of Muslims entering the United States".
An earlier version of Mr Trump's travel ban, issued in January, sparked confusion and protests and was blocked by a judge in Seattle because it probably violated the due process rights of individuals with valid residency papers and visas.
---
Monday's other Trump news
Trump sued over business foreign payments
Ivanka Trump condemns 'vicious' critics
Sessions to testify publicly on Russia
Trump-like Julius Caesar loses backing
Source link