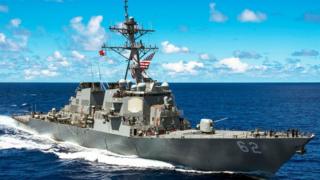 A US Navy destroyer has collided with a merchant vessel close to Japan with reports of a number of injuries.
The crash involving the USS Fitzgerald happened 56 nautical miles (103km) south-west of the city of Yokosuka at about 2:30am local time (18:30 BST) on Saturday.
Japan's public broadcaster, NHK, showed aerial footage of the US ship with heavy damage on one side.
The US Navy has requested help from the Japanese coastguard.
One injured sailor is to be evacuated to hospital by the coastguard's helicopter, the navy said.
In a series of tweets, the US 7th Fleet said the USS Fitzgerald had experienced flooding in some areas, and the extent of injuries was being determined. It said there were no reports of deaths at this time, and the ship was now on its way to Yokosuka.
It also said the other ship carried a Filipino flag.
Source link