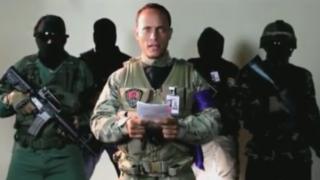 A helicopter has apparently tried to bomb Venezuela's Supreme Court in what President Nicolas Maduro called a "terrorist attack".
The government says a police officer flew the helicopter over the capital, Caracas, and dropped grenades.
Footage on social media shows a helicopter circling over the city before a loud bang is heard.
The officer believed to have seized the aircraft has issued a video statement condemning the government.
There are no reports of anyone being killed or injured.
Venezuela is in the grip of an economic and political crisis and there have been almost daily protests against Mr Maduro's leftist government.
More than 70 people have been killed in protest-related violence since 1 April, according to the chief prosecutor's office.
President Maduro said grenades had been dropped in the attack and he promised that security forces would capture those behind it.
"I have activated the entire armed forces to defend the peace," he said in an address from the Miraflores presidential palace.
"Sooner or later, we are going to capture that helicopter and those who carried out this terror attack."
The police officer, who called himself Oscar Perez, appeared on Instagram, flanked by armed and masked men in uniform.
He appealed to Venezuelans to oppose "tyranny".
"We are a coalition of military employees, policemen and civilians who are looking for balance and are against this criminal government," he said.
"We don't belong to any political tendency or party. We are nationalists, patriots and institutionalists."
He said the "fight" was not against the security forces but "against the impunity of this government. It is against tyranny".
Earlier on Tuesday, Mr Maduro reiterated his allegations that the US was supporting coup attempts against his government and warned President Donald Trump that Venezuela would resist such a move.
On Monday, he announced that five people had been arrested, accused of plotting against him and preparing for a US invasion.
Source link